Change Oracle
Jump to navigation
Jump to search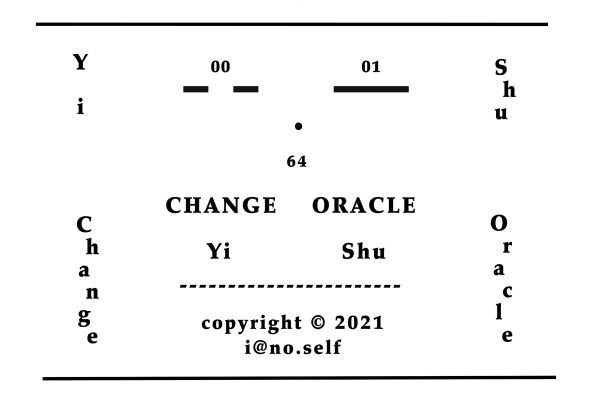 01 MACROCOSM
210611 version (= Binary Hexagram 38 :: 10:01:10 -- King Wen Hexagram 18; Corruption)
10 MICROCOSM
'YI' means change. Yi Shu is a divination reference easing the use of binary figures to consult an ancient oracle. Chinese origins for this information feature a number of texts of varying age to accompany it, one of which has become well-known in Euroamerican culture: "I Ching" (CHANGE CLASSIC), also known as the Chou Dynasty I Ching. King Wen and Duke of Chou commentaries appear alongside the traditional names for the hexagrams, which are interpreted according to the querent's situation and the answer to a question posed to the oracle is inferred based on these commentaries and names.
Yi Shu or Change Oracle is not Yijing / I Ching, but an alternative construct simplifying hexagram construction and arrival at outcome in response to the querent question while maintaining the conventional odds for lines and ignoring Chou Dynasty commentaries.
1001 TRIGRAMS AND HEXAGRAMS (GUA)
YI understanding starts with LINES (YAO).
100101 LINES (2) AND BIGRAMS (4)
Change Divination (Yi Shu) uses four types of LINES, which emerge from four bilinear combinations composed of:

and
LINES
2 of these are MOVING LINES, which are composites, of a character between 'Youthful' Yin and Yang values.
Yin-Yang
Yang-Yin

BIGRAMS help symbolize moving lines, comprising the Four Symbols (HSIANG). MOVING LINE images are annotated with numbers 1 or O.
the LINE in(PARENTHESES) wells up from below the LINE we know, determining its apparent character.
stable (Young) LINES are reinforced by underwelling equals, known as 'Greater' on account of their accumulation (Younger/Greater Yin, Yang)
100110 (8) GUA {'Ba Gua' ('8 Symbols/Figures')}
  excluding moving LINES, there are 8 possible TRIGRAMS; these
   may be assigned values from 0 to 7 in binary series for the
   facilitation of understanding and identifying them; a divided
   LINE = 0 and an undivided LINE = 1; see CHARTS 10 and 11 for
   the values of TRIGRAMS and HEXAGRAMS
   
==============================================================
 CHART 10 : The Binary Values of the Ba Gua (8 Trigrams), LHP
==============================================================

 TRIGRAMS  - -   - -    - -    - -    ---    ---    ---    ---
           - -   - -    ---    ---    - -    - -    ---    ---
           - -   ---    - -    ---    - -    ---    - -    ---

  BASE 02  000   001    010    011    100    101    110    111
  BASE 10   00    01     02     03     04     05     06     07
  
==============================================================

100111 (64) HEXAGRAMS
   excluding moving LINES, there are 64 possible HEXAGRAMS which can
    be assigned values from 0 to 63. it is important to identify
    HEXAGRAMS by referring to the two TRIGRAMS of which they are
    comprised, and their names (see CHART 11, where TRIGRAM values
    form what is called the 'ID #')

 =================================================================
   CHART 11 : The Binary Values of the 64 Gua (Hexagrams); LHP
 =================================================================

        _ _  _ _  _ _  _ _  _ _  ...  ___  ___  ___  ___  ___
        _ _  _ _  _ _  _ _  _ _  ...  ___  ___  ___  ___  ___
        _ _  _ _  _ _  _ _  _ _  ...  ___  ___  ___  ___  ___
        _ _  _ _  _ _  _ _  ___  ...  _ _  ___  ___  ___  ___
        _ _  _ _  ___  ___  _ _  ...  ___  _ _  _ _  ___  ___
        _ _  ___  _ _  ___  _ _  ...  ___  _ _  ___  _ _  ___

 ID #   0-0  0-1  0-2  0-3  0-4  ...  7-3  7-4  7-5  7-6  7-7
 BASE-10 00   01   02   03   04  ...   59   60   61   62   63
 =================================================================

     traditionally there are three types of HEXAGRAMS that are
      interpreted in an oracular consultation with Change Classic:

        PRIMARY
         created initially;
         reflection of present conditions;
         see section 000010 PRIMARY

        APPROACHING
         Old Yang and Old Yin are changed to their opposites;
         condition toward which QUERENT is moving;
         see section 000011 APPROACHING

        MUTUAL (CORE)
         interior LINES are projected outward;
         solution or overall advice; deeper insights into present;
         see section 000110 MUTUAL

1010 ORACLE
101001 ENTRANCE


   * wash HANDS; use HANDWASH, HOLY OIL, etc.

   * retrieve BOOK (e.g. "Change Classic") from high clean spot;
     remove its SILK or CLOTH WRAPPING; place upon lightward-
     facing (i.e. in northern hemisphere, south-facing; in
     southern hemisphere, north-facing) TABLE at room center
     with incense burner. BOOK receives the DIVINER as a Lord
     or Master receives a respectful GUEST -- a GUEST who knows
     the proper FORMULAE and TOOLS to successfully divine

   * begin contemplation of QUERY; carefully consider its form,
     since few can be answered with a simple 'Yes' or 'No'; ask
     about project advisability, likely result of action, or
     likely outcome for things, persons, etc., concentrating on
     reflecting present or near-future conditions;

   * stand facing TABLE (toward the DARKNESS), light INCENSE and
     prostrate three times before BOOK. pass divination HAND
     through INCENSE thrice, making clockwise circles at WRIST
     (alternatively, if using some other method than that
     described below (bibliomancy), divinatory OBJECTS may be
     censed)

101010 IDENTIFY AND INTERPRET HEXAGRAMS
10101001 PRIMARY (KING WEN/KUNG FU TSE, DUKE OF CHOU)
  
   * open BOOK randomly and select a HEXAGRAM:
          
     consult HEXAGRAM LINE GENERATOR below to use the HEXAGRAM
      just selected to generate first LINE (bottom) of the PRIMARY
      HEXAGRAM; repeat this procedure for each of the other 5 LINES
      moving upwards
      
           
     LOWER TRIGRAM OF BIBLIOMANTICALLY-SELECTED HEXAGRAM
     ---------------------------------------------------
     interpret lower TRIGRAM of this figure as a composite
      of YIN and YANG LINES (3YIN or 1YIN, and 1YANG or 3YANG);
      consult HEXAGRAM LINE GENERATOR below and determine which
      TABLE will be used to determine the LINE (10 or 11)
      

     UPPER TRIGRAM OF BIBLIOMANTICALLY-SELECTED HEXAGRAM
     ---------------------------------------------------
     the upper TRIGRAM 1s a binary number from 0 to 7;
      see CHART 10: The Binary Values of the Ba Gua; using
      the TABLE determined by the LOWER TRIGRAM OF THE
      BIBLIOMANTICALLY-SELECTED HEXAGRAM, determine the LINE
      for the PRIMARY HEXAGRAM (Old or Young Yin or Yang)

     for example,
      having selected a HEXAGRAM with 6 Yang LINES top-to-bottom, its
      lower TRIGRAM has 3 Yang LINES, so TABLE 11 is used, evaluating
      the upper TRIGRAM as 7 (consulting CHART 10), and the bottom
      LINE of our PRIMARY HEXAGRAM would be a moving (Old/Lesser)
      Yang LINE ____________ 0); this is then repeated for the other
      5 lines in the PRIMARY HEXAGRAM

    ===============================================================
     HEXAGRAM LINE GENERATOR (using seed randomly found in BOOK)
    ===============================================================
     TABLE 10                       | TABLE 11
                   LOWER TRIGRAM    |             LOWER TRIGRAM
                  (3Yin or 1Yin)    |          (1Yang or 3Yang)
                                    |
     -------------------------------|------------------------------
      UPPER       LINE GENERATED    |  UPPER      LINE GENERATED
     TRIGRAM #                      | TRIGRAM #
                                    |
        0         ____    ____X*    |   0-4       ____________
       1-7        ____    ____      |   5-7       ____________0*
                                    |
                                    |
               (* -- 'X' and '0' denote moving LINES)
    ===============================================================

      notes: the manipulation of YARROW STALKS is traditional; other
             methods may be valuably considered, particularly those
             which, like the one suggested here, utilize bivalent
             (e.g. coin) and octovalent (e.g. 8-sided die) elements
             (which duplicates the YARROW STALK method's odds;
             for odds calculations generally, cf.:
http://www.luckymojo.com/iching/methods.html
             where other methods of casting Change Oracle may be found)
             
            3-coins method is pro-Yang. the method using BOOK by
             itself is one I invented with my wife, catherine, and
             may be original (though surely Taoist adepts have
             reams of such methods, I haven't run across it yet
             in translations of Plum Blossoms or Change Classic)

    ================================================================
    EXAMPLE 10 (PRIMARY HEXAGRAM)
    -----------------------------
    HEXAGRAM 6-3 (51/K61 (King Wen ###))
         Decimal Value : 51; Binary Trigram Value: "6-3",
         'Wind over Lake', ???, "????"

         (LINE 6) ____________ (TRIGRAM two, Upper -- 6)
         (LINE 5) ____________
         (LINE 4) ____    ____ 0 (moving LINE (Greater Yin))
         (LINE 3) ____    ____ 
         (LINE 2) ____________
         (LINE 1) ____________ (TRIGRAM one, Lower -- 3)
                     110 - 011 (decimal 51)
                     6   -   3
                           K## ???
        APPROACHING 6-7 55/K## ??? (see EXAMPLE 11)

    ================================================================

   * HEXAGRAMS are usually identified with NUMBERS, NAMES,
     TRANSLATIONS OF NAMES, SYMBOLS, MEANINGS, and COMMENTARIES,
     used in interpretation (see section 0011 IDENTIFY AND INTERPRET
     HEXAGRAMS). these are the basic features of any complete
     reading, along with the specific interpretation of the results,
     given the circumstance
     
    use CHART 110 below to identify HEXAGRAMS using the binary values
     of the composite TRIGRAMS that make them up. it allows those
     familiar with binary values and trigrammatic identity (mathematical)
     to quickly identify HEXAGRAM NUMBERS with LINE structure

 =================================================================
   CHART 110 : SHAO YAN'S BINARY TRIGRAMMATIC SQUARE INVERTED
 =================================================================

               LOWER TRIGRAM -- SECOND NUMBER

               - -     - -     - -     - -     ---     ---     ---     ---
               - -     - -     ---     ---     - -     - -     ---     ---
               - -     ---     - -     ---     - -     ---     - -     ---

                0       1       2       3       4       5       6       7     TRIGRAM VALUE

    U          00      01      02      03      04      05      06      07     DECIMAL
    P   0      0-0     0-1     0-2     0-3     0-4     0-5     0-6     0-7    TRIGRAM VALUE
    P        000-000 000-001 000-010 000-011 000-100 000-101 000-110 000-111  BINARY
    E          K##     K##     K##     K##     K##     K##     K##     K##    KING WEN #S
    R

                08      09      10      11      12      13      14      15
    |   1      1-0     1-1     1-2     1-3     1-4     1-5     1-6     1-7                                                  
             001-000 001-001 001-010 001-011 001-100 001-101 001-110 001-111
    T          K##     K##     K##     K##     K##     K##     K##     K##
    R
    I
    G           16      17      18      19      20      21      22      23
    R   2      2-0     2-1     2-2     2-3     2-4     2-5     2-6     2-7
    A        010-000 010-001 010-010 010-011 010-100 010-101 010-110 010-111
    M          K##     K##     K##     K##     K##     K##     K##     K##


                24      25      26      27      28      29      30      31
    |   3      3-0     3-1     3-2     3-3     3-4     3-5     3-6     3-7
    |        011-000 011-001 011-010 011-011 011-100 011-101 011-110 011-111
               K##     K##     K##     K##     K##     K##     K##     K##


                32      33      34      35      36      37      38      39
    S   4      4-0     4-1     4-2     4-3     4-4     4-5     4-6     4-7
    E        100-000 100-001 100-010 100-011 100-100 100-101 100-110 100-111
    C          K##     K##     K##     K##     K##     K##     K##     K##
    O
    N
    D           40      41      42      43      44      45      46      47
        5      5-0     5-1     5-2     5-3     5-4     5-5     5-6     5-7
             101-000 101-001 101-010 101-011 101-100 101-101 101-110 101-111
    N          K##     K##     K##     K##     K##     K##     K##     K##
    U
    M
    B           48      49      50      51      52      53      54      55
    E   6      6-0     6-1     6-2     6-3     6-4     6-5     6-6     6-7
    R        110-000 110-001 110-010 110-011 110-100 110-101 110-110 110-111
               K##     K##     K##     K##     K##     K##     K##     K##


                56      57      58      59      60      61      62      63
        7      7-0     7-1     7-2     7-3     7-4     7-5     7-6     7-7
             111-000 111-001 111-010 111-011 111-100 111-101 111-110 111-111
               K##     K##     K##     K##     K##     K##     K##     K##

    =========================================================================

    obtain K# (King Wen HEXAGRAM #) from the above REFERENCE; get BOOK
    
    study JUDGMENT/DECISION (King Wen) and HEXAGRAM COMMENTARY (Kung Fu Tse)
     for PRIMARY HEXAGRAM (generated in section 0011 IDENTIFY AND INTERPRET
     HEXAGRAMS) Kung Fu's HEXAGRAM COMMENTARY explains Wen's JUDGEMENT
    
    *these pertain to the conditions surrounding or associated
     with the QUERY; recent or present circumstances*


10101010 APPROACHING (WEN/KUNG FU)
  
    *elaboration may be obtained by studying the LINE COMMENTARY
     (on changing/moving LINES, by Duke of Chou), representing
     coming change's purpose, advice for attaining GOALS, and
     warning or good fortune AUGURIES. if no changing LINE,
     determine ruling LINES (governing/self and constituting/other)
     by referring to Kung Fu Tse, or emphasize PRIMARY HEXAGRAM
     (considering its NAME, SYMBOL and the DECISION of King Wen),
     then proceed to section 000110 MUTUAL

    *moving LINES are given individual significance within
     Chou LINE COMMENTARY and are used to derive APPROACHING
     HEXAGRAMS (condition toward which the QUERENT is headed); 
     
      METHOD:
       change 'Old' to *opposite* 'Young' LINES; Old Yang to Young Yin,
       Old Yin to Young Yang (upwelling LINE in BIGRAM has surfaced;
       see section 0010 LINES AND BIGRAMS)

    *EXAMPLE 10 contained one changing or moving LINE; changing
     this from Old Yin to Young Yang, we thereby determine the 
     APPROACHING HEXAGRAM: 33/K10 (6-7) (see EXAMPLE 11)

    ================================================================
    EXAMPLE 11 (APPROACHING HEXAGRAM)
    ---------------------------------
    HEXAGRAM 6-7 (55/K10)

          Decimal Value: 55; Binary Trigram Value: "6-7",
         'Lightning over Lake', FANG, "Fulfillment"
          
                  ____________
                  ____________
                  ____________
                  ____    ____
                  ____________
                  ____________
                       110-111 (decimal 55)
                       6  -  7
                           K10 Fulfillment

    ================================================================

    *study Wen and Kung Fu for APPROACHING HEXAGRAM,
     indicating condition toward which QUERENT moving;
     if Kung Fu appears to contradict Wen, APPROACHING
     HEXAGRAM text takes precedence; otherwise combine this
     with section 000010 PRIMARY above; proceed to
     section 000110 MUTUAL


10101011 MUTUAL (WEN/KUNG FU)
  
   * 'MUTUAL'/'NUCLEAR'/'INNER' HEXAGRAM is obtained
     by identifying 2 interior projected TRIGRAMS
     from LINES 2/3/4 (Lower) and LINES 3/4/5 (Upper)
     and gives the core meaning to the PRIMARY HEXAGRAM.
     using our example: (6-3/K61), MUTUAL HEXAGRAM IS 4-1/K27
     
    ================================================================
    EXAMPLE 110 (MUTUAL HEXAGRAM)
    -----------------------------
    HEXAGRAM (33/K27 (4-1))

         Binary Trigram Value : 33; Binary Trigram Value: "4-1",
         'Mountain over Thunder', YI, "Nourishing"

                  ____________
                  ____    ____
                  ____    ____
                  ____    ____
                  ____    ____
                  ____________
                       100-001 (decimal 33)
                       4  -  1
                           K27 Nourishing

    ================================================================

    study Wen and Kung Fu Tse for MUTUAL HEXAGRAM, which
     represents whole situation, general trend, or solution
     to problem; a deeper insight into the present

    ================================================================

101011 CLOSING
   * facing TABLE, light INCENSE and prostrate three
     times before BOOK; replace SILK or CLOTH WRAPPING
     and return BOOK to high clean spot

            END OF PRACTICAL METHOD (BIBLIOMANTIC)

1011 BIBLIOGRAPHY
Blofeld, John, "I Ching (The Book of Change)", Dutton, 1965.

Hook, Diana ffarington, "The I Ching and You", Dutton, 1973.

Hook, Diana ffarington, "The I Ching and its Associations", Routledge and Kegan Paul, 1980.

Huang, Alfred, "The Numerology of the I Ching", Inner Traditions, 2000.

Kee, Alfred, "When I Ching Has No Text," AK Guru Prediction Consultancy, 2021.

Legge, James, "I Ching: Book of Changes", Bantam Books, 1986.

Sherrill, W.A., and Chu, W.K., "An Anthology of I Ching", Arkana Books, 1989.

Wilhelm, Hellmut, "Eight Lectures on The I Ching", Princeton University Press, (transl. to English by Cary F. Baynes), 1973.

Wilhelm, Richard, "The I Ching or Book of Changes", Princeton University Press, (transl. to English by Cary F. Baynes), 1990.

            END OF WORK (PROPER)



11 ACKNOWLEDGEMENTS, DEDICATION, AND COPYRIGHT


thanks to sri catyananda, Professor Gee, Master Huang, Master Kee, Ko Hung, Shao Yung, Kung Fu tse, Fu Hsi, Hsi Wang Mu, Chang Tao Ling and the rest of the Celestial Masters for their awesome inspiration



          
dedicated 01/11/10; TRIGRAM 3-1, K28, Great Exceeding, Da Guo:

 at time  01:11:10pm in reflection of same

  revised 06/11/21; TRIGRAM 10:10:1138, K38, Diversity
         
  copyright (c) 2001-2021 (i@no.self (!))  nagasiva AT yronwode.com all rights reserved.





1101 WORKING NOTES


Yi Shu - Change Divination

Yi Jing - Change Classic

Zhou Yi - Zhou Dynasty Oracle, attr. to Ji Chang ("King Wen of Zhou") and Ji Dan ("Duke of Zhou", his son)

Lian Shan - ("Joint Mountains") Xia Dynasty Oracle

Gui Cang - ("Return to the Storehouse") by {author unknown; several commentaries}

Yi Wei - ("Apocryphal Yi") attr. to Zheng Xuan

Fu Xi and Nu Wa

http://www.chinaknowledge.de/

http://www.chinaknowledge.de/Literature/Daoists/shushu.html

http://www.chinaknowledge.de/Literature/Classics/yijing.html

http://www.chinaknowledge.de/History/Myth/personsfuxi.html

FINAL END